For the first time in recorded history, in 2008, more people began living in urban areas than rural. Simultaneously, many studies show that the millennial generation and other consumers prefer to live in urban environments with access to local foods. This movement has created a dilemma where more people in urban areas rely on a declining farm population. It has also created an increased interest in urban agriculture. Register here.

Associated with the rise in the popularity of urban agriculture
there is a need to mitigate the impacts of urban stormwater runoff. This workshop will highlight the University of the District of Columbia's Sustainability Program, which in part, aims to integrate urban agriculture and urban stormwater management. The workshop will highlight green infrastructure, low impact development, federal, state, non-profit and for profit partnerships, and a unique partnership with the DC Housing Authority. It will also include an evaluation of economics and social impacts.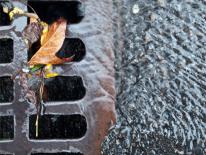 Copyright: District Dept. of the Environment
Participants will engage in a design charette for an integrated urban agriculture/urban storm water project in DC.
The class will be hosted Jan. 23, 2015, 9:00 a.m. - 1:00 p.m. at:
The University of the District of Columbia
David A. Clarke School of Law
4340 Connecticut Ave., NW
Washington, DC 20008
Building 52, Room 505

The course fee is $50. Please bring a check to the class made out to the University of the District of Columbia. In the memo line, please write Urban Stormwater Management Workshop. Please sign-up here to reserve your spot! If you are unable to make this workshop, the course will be repeated Feb. 26, 2015!

UDC is located at the Van Ness/UDC metro stop on the red line. If you decide to drive, you can park in the UDC parking garage located on Van Ness St. NW. The rate for 4 hours is $12.